Bello Breast Cream formulated with herbal ingredients that causes breast enlargement.
Unlike many breast creams Bello Breast Cream is blend of simple herbs and Wheat Germ oil which is rich in Vitamin E. Pueraria mirifica in Bello Breast Cream help for development of the mammary tissues and helps enlarge the breasts by lengthening and branching the ducts that connect to the nipple. It also increases the fatty tissue and ligaments around the breasts that provide support and shape. As these ducts branch out from the nipple into the interior of the breast, ending in clusters of the lobules, resulting in fuller and firmer breasts. Moreover, Cream helps maintain the collagen and stimulates developing new cells in skin, which improves the breast skin and maintains a natural look.
Below age or teenager should be prohibited as allow her body system to grow up into fully maturity.
Avoid use during pregnancy and lactation because of the lack of clinical plant's phytoestrogen activity.
Cream prepared with the following herbal extracts:
Pueraria mirifica (Vidari) - 6 % w/w.
Ficus bengalensis (Vata) - 2 % w/w.
Triticum vulgare (Wheet Grem Oil) - 1 % v/w.
Perfumed Cream Base - q.s.
HOW TO USE :
1. Apply Bello Breast cream generously on two breast, spread the cream so that
to spread cream throughout breasts.
2. Rub your hands together to generate some heat so that they'll be warm as
you start the massage. Another option is to use a heat pack to gently warm
up your breasts by doing this blood circulation will increase so that blood flow
will increase in the area.
3. Cup a hand over each breast. Your right hand goes over your right breast and
your left hand goes over your left breast, like so: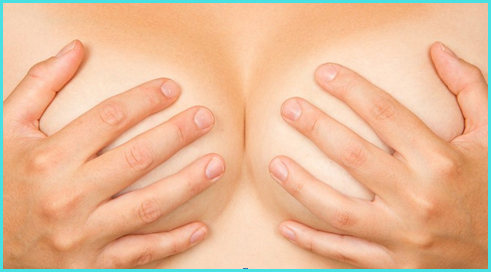 Spread your fingers out so that your breasts are fully cupped and supported
by your hands. But let your nipples peek out through your fingers so that you
are not stimulating them too much during the massage.
4. Begin to move your breasts in a circular motion in an inward direction. This
means each of your breasts will be going in a full circle, starting away and
upwards from each other and going towards and downwards to each other.
Like so: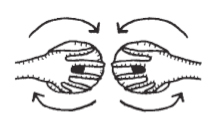 Aim to do a total of 300 full circles for each breast – it only takes around
10 minutes for the full 300, anyway. By this time total Bello Breast cream
might be absorbed.
5. With open hands, begin sweeping the fat from the waist and upper arms into
the breasts themselves.
Tips for doing Massage :
1. It's best to add little quantity of coconut oil or Mustered oil with Bello Breast
Cream before apply.
2. The angle and the constant rotations can be a bit hard on the arms – in which
case, you can simply use the right hand for your left breast and your left hand
for your right breast and do your breasts separately, which might take longer
but is less strain on the arms.
3. For maximum results, make sure that you're moving your actual breast tissue
with each rotation and not just circling your hands over your breasts.
4. Remember to leave your nipples alone as much as you can during the
massage as they can get really sensitive and even chafed.
FOR EXTERNAL USE ONLY
Packing :
50 gms HDPE jar with Carton pack.